Skip to content
---
Cartridges and plate for Glycan Purification: LudgerClean EC50 range
Ludger's glycan purification cartridges (catalogue no. LC-EC50-24) and plate (catalogue no. LC-EC50-96) have been designed to purify glycans from non-carbohydrate material including salts, proteins and detergents by electronic interaction of the glycans with the surface of the cartridge.
Clean-up of glycans can be performed using EC-50 cartridges/plate:
after enzymatic or chemical release of glycans from glycoproteins
after exoglycosidases (enzymatic) digestion of glycans to release individual monosaccharides to confirm glycan identity and structure
before and after glycan labelling using fluorescent tags such as 2-aminobenzamide acid (2-AB) or 2-aminobenzoic acid (2-AA)
Workflow:

---
---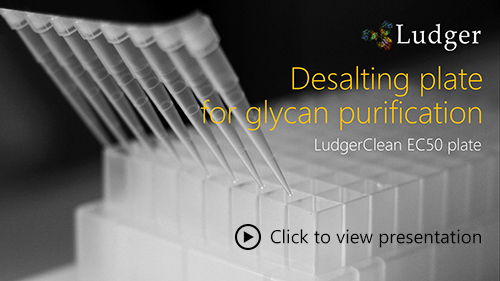 EC50 Plate - Validation/Data Presentation
---
Product/Ordering Information:
Cat #
LC-EC50-24 LudgerClean EC50 Cartridges (Product Guide)
Each pack contains 24 cartridges.
Cat #
LC-EC50-96 LudgerClean EC50 Plate (Product Guide)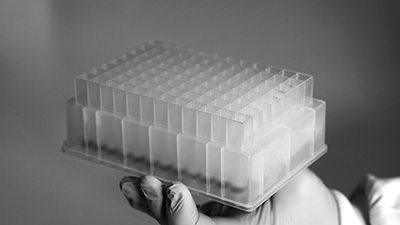 Companion Products:
Cat #
Collection Plate Lid, 5 per pack (can be used with LC-EC50-96)
Release Kits (Enzymatic and Chemical):
LudgerZyme recombinant PNGase F kit
PNGase F (Peptide N Glycosidase F)
Ludger Liberate Hydrazinolysis N- and O-glycan release kit
Labelling Kits:
LudgerTag 2-AB glycan labeling kit, sodium cyanoborohydride reductant
LudgerTag 2-AB glycan labeling kit, 2PB reductant
LudgerTag 2-AB glycan high throughput labeling kit, 2PB reductant
LudgerTag 2-AA glycan labeling kit, sodium cyanoborohydride reductant
LudgerTag 2-AA glycan labeling kit, 2PB reductant
LudgerTag Procainamide glycan labeling kit, 2PB reductant
LudgerTag Procainamide glycan labeling kit, sodium cyanoborohydride reductant
LudgerTag Procainamide glycan labeling kit, sodium cyanoborohydride reductant
Please contact us with any questions or for a quote: info@ludger.com
---
Contacts
Technical Advice
Dr. Conception Badia Tortosa
Senior Scientist
conchi.badia@ludger.com
Quotations and Orders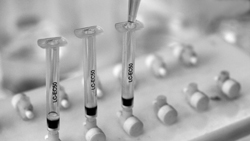 Sales Team
Quotations: info@ludger.com
Orders: sales@ludger.com